Cloud Expo: Vaizey says it's time to embrace technological change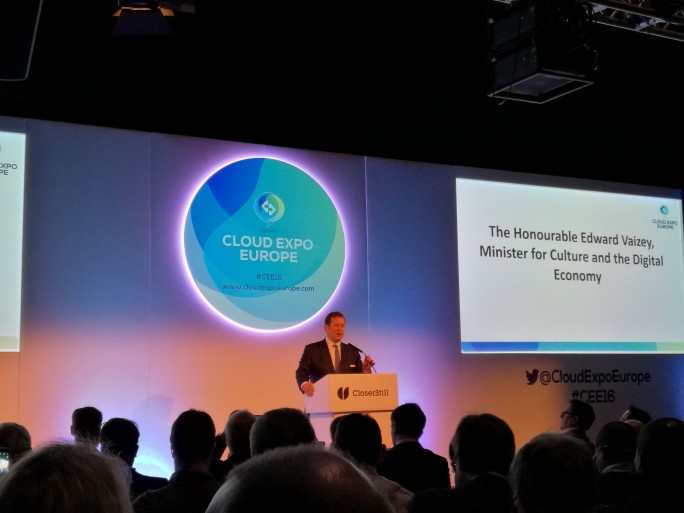 'Dazzling' potential of the Internet of Things among exciting prospects as minister highlights continued government support for new technology
The government's minister in charge of technology has claimed that the UK is in an extremely strong position to compete with the world's best when it comes to new innovations.
Speaking at Cloud Expo Europe in London today, Ed Vaizey, the minister for culture and the digital economy, said that the country is now "one of the most exciting places to invest in digital technology".
"This is an exciting time," he told attendees, "what we're seeing is a vital partnership between business, between government, and between the public sector.
"We're sending the message all over Europe that the UK is a great place to do business if you want to do technology."
Noting that the previous coalition government made "a conscious decision" to establish close links with the technology sector when it came to power in 2010, Vaizey said that the country was increasingly enjoying the benefits of being at the forefront of technology advances.
A large part of that is due to government investment and support in those companies looking to innovate and move forward, Vaizey said, whether this be with the Tech City initiative or other such projects.
"The changes that tech brings should be embraced rather than resisted," Vaizey said, adding that he wants the UK to be a leader in all kinds of technology, from 5G development to the Internet of Things.
"We're not going to second guess what technology can bring and what it can change, but we do want to listen and invest in change," he said, highlighting the "dazzling" potential that the IoT brings.
"We're not deciding which technologies win and lose – but we can set the standards, and provide the investment to have companies try out the innovation they might not be able to without government being a partner with them."
Read also :