Spectrum Vega+ console firm hits back in director bust-up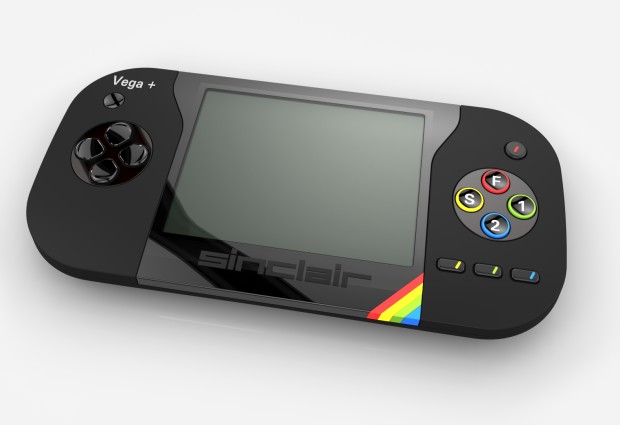 Spectrum mobile console legal spat spirals as Sir Clive Sinclair-backed company comes out fighting
The company behind the crowd-funded Spectrum mobile Vega+ console has come out fighting over the director bust-up reported on ChannelBiz yesterday.
Two directors who are in dispute with the company and who own half of it have suggested the new console will struggle to make the market on time, leaving backers disappointed. The two directors left the company as directors before the Vega+ crowdfunding campaign – which was heavily over-subscribed by Spectrum fans.
The two directors say they are taking legal action over their business dispute with Vega+ maker Retro Computers, but the company has now confirmed it is taking legal action against them too, and insists the Vega+ is still planned to be launched next month as promised, although "towards the end of the month".
Spectrum fans – Retro Computers is also backed by Sir Clive Sinclair – will see if the device comes up to the mark when it is shipped. But Dr David Levy, chairman and director of Retro Computers has angrily hit out at the "destabilising effect" the rebel directors have had on the project.
He said: "The current team at Retro Computers is focusing its efforts on the completion of new and better software for its forthcoming product, the Vega+, and is making every effort, supported by the factory, to deliver the first production run of the Vega+ by the end of next month, as originally planned.
"I would not normally comment on such matters but given that this is the third factually inaccurate statement being released to media by Paul Andrews and Chris Smith [the two departed directors], purporting to distance themselves from the Vega Project, we are seeking to clarify the misinformation."
He went on: "Following advice from our legal and financial advisers, we can also confirm that the current management at Retro Computers have issued legal proceedings to recover company funds that are unaccounted for whilst the company was under the sole financial management of Paul Andrews, as managing director, and Chris Smith, as CTO. This matter has been in the hands of our solicitors for some time."
Levy claims Andrews and Smith resigned as directors after Retro Computers found out they intended to attempt to raise money for the development and manufacture of a "rival product", namely a retro version of the Commodore 64 computer – The64.
"I perceived their intentions as putting them in a conflict of interests situation, contrary to Section 25 of the Companies Act 2006," said Levy.
Since their resignation, Levy claims, the two directors have failed to hand over to the company and its new management team "various important legally required company records" and "documents and technical information that are needed for the smooth operation of the company".
@AntonySavvas
Read also :