Commvault tackles rivals in data management space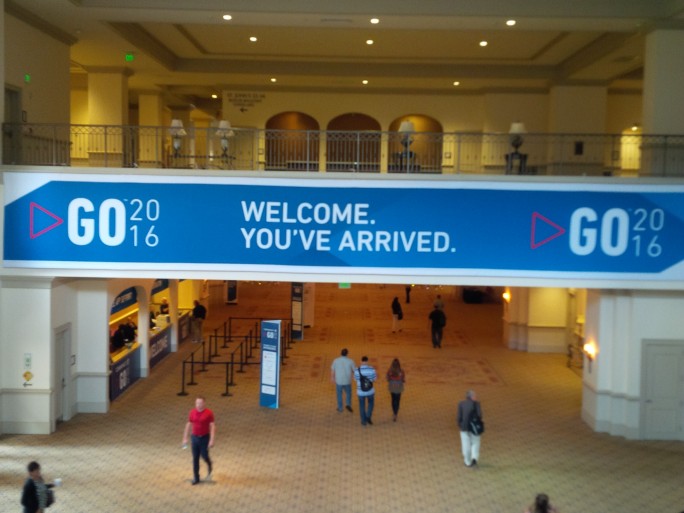 Veritas and Veeam among those called out as backup and disaster recovery firm tackles data lakes
The enterprise data backup market is expanding as a result of deepening data lakes, but it's still familiar faces leading the solutions pack.
Commvault is one of those leaders, and ChannelBiz went along to the company's inaugural GO customer and partner event in Orlando to see how it was defending its position.
As far as Commvault is concerned, its main competitors in enterprise data backup are Veritas, Dell EMC and IBM. To consolidate its market position, Commvault announced at GO that it was extending its product suite to support software-defined data services (SDDS) and improve orchestration, as well as grow its industry alliances.
The announcements, accompanied by keynotes from senior executives from industry partners including Microsoft and Cisco, seemed to go down well amongst the 1,300 delegates at the event.
Commvault said it was "continuing to accelerate its pipeline" with key new innovations to the Commvault Data Platform and solutions portfolio, that "eliminate data management complexities".
It said it was building on its open API architecture to provide "new levels of openness", offering customers "flexibility of choice" in infrastructure, platforms, compute options and storage providers.
Bob Hammer, CEO of Commvault (pictured above), stressed: "By continuing to deliver a roadmap of innovation for data management, Commvault enables its customers to secure significant competitive advantages in a world where data is at the centre of everything."
Hammer's keynote included a contribution from News Corp – the owner of The Times, The Sun, GQ, book publisher HarperCollins and hundreds of other titles across the world.
News Corp said it was extending its EMEA Commvault backup technology framework deal to its US and APAC regions. The company is currently working towards placing 75 percent of its infrastructure into the public cloud across EMEA, and is also consolidating data centres and moving its backup functions to its operations centre in Bangalore.
Backup was previously managed for News Corp as part of a wider contract with outsourcer HCL, but now Bangalore staff are being trained up to use Commvault.
At a journalist Q&A after his keynote, Hammer was asked whether rivals like Veritas were worthy competitors in not only the basic data backup space, but in addressing the evolving needs of data management.
The data management space is where organisations seek to use intelligent systems to find, index, store, and use the most important data to add value to the business – not just back it up to a single and growing data lake.
Hammer claimed: "Veritas say they are working towards a wider data management system, but when are they going to bring it to market, it's a vision, not reality.
"We've been building what we have since I joined 18 years ago, it is reality – it is a mature and functioning system. Our testing lab alone took ten years to fully develop to serve all the market's needs."
Veritas of course not only sells backup software, but also purpose built backup appliances (PBBAs).
But Commvault vice president of worldwide channels and alliances, Ralph Nimergood, confirmed Commvault had no intention of going anywhere near that space. He said the company was instead committed to only software and working with companies like Cisco, for instance – and other companies – on jointly developing integrated backup appliances that can run Commvault software.
Commvault currently sells around 80 percent of its products through the channel, using VARs, OEMs, cloud providers and consulting firms. It has around 2,400 partners globally, which isn't a huge number, but then again, the company does focus on the mid- to large enterprise market to drum up the higher value business.
Significantly, Nimergood said the firm wasn't necessarily even looking to increase its partner numbers, which is in contrast to one of its emerging backup rivals Veeam. In EMEA alone, Veeam had around 23,000 partners by April this year, and is constantly regaling the market about how the figure is steadily going up.
Admittedly, the large majority of Veeam's deals still involve lower value SME deployments, but it is striving to make a bigger fist in the enterprise market too. Nimergood maintains that Veeam's feature set is well below Commvault's offering, and that "most of Veeam's partners are not really committed to the company", with most "only generating a few thousand dollars a year".
But one should point out, that despite this, the two companies' turnover isn't that far apart. Also, backup services delivered via the cloud – which are increasingly becoming the norm – could quickly become commoditised, along with cloud data management services. For the record, Veeam's annual revenues are currently around $500 million and Commvault's are around $600 million.
As well as the cloud, Nimergood acknowledges there are plenty of other changes afoot in the market, including shake-ups as a result of Dell's purchase of EMC. Indeed, Dell EMC, despite more market demand for enterprise data management services, recently sold off a clutch of such services to OpenText.
While these were peripheral to the nuts and bolts of backup, traditional disaster recovery and disaster-recovery-as-a-service (DRaaS) via the cloud, they were still a nice add on for what EMC previously offered the market. But Dell needed the cash to help pay for the $65 billion EMC takeover.
Despite market changes though, Commvault certainly has a loyal set of VARs who are thankful for the path of certainty it portrays. Brian Miller, of Irish IT services firm Sureskills, told ChannelBiz: "We've been a Commvault partner for around 12 years and we'll be sticking with them. Commvault isn't just an endpoint backup solution, it offers the right archiving, data management and analytics that our customers need.
"Commvault also want to own any problems faced by our customers, even if it's not their software that is the cause, and down to storage hardware or some other problem. They realise that customers just want a solution to their backup problems and they are happy to help."
@AntonySavvas
Read also :