Report: Surface RT Orders Halved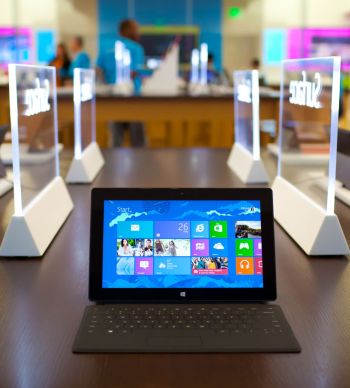 Upstream supply chain orders for Microsoft's Surface RT tablet have reportedly been halved from four million
Orders from within the supply chain for Microsoft's Surface RT tablet have been reduced by half, from four million to two million units, according to a report.
Citing unnamed supply chain sources, Taiwan's DigiTimes reported that other tablets based on Windows RT are also seeing weak performance, leading to speculation that the new operating system may not sell as well as expected.
Lower expectations
Microsoft originally expected to ship four million Surface RT devices by the end of 2012 but one analyst estimates that the tablets will only reach sales of just over a million units.
"We see estimated sales of 1.3 million," Rhoda Alexander, an analyst at IHS iSuppli told CNET. "I would be surprised to see it much above that,"
Windows RT is designed for ARM-based processors, and Microsoft's Surface RT runs on nVidia's Tegra 3 quad-core processor. Partners such as Acer, Asus, Samsung and Dell have also launched Windows RT-based tablets.
Microsoft is planning to launch the Intel Core i5-based Surface Pro in January, but DigiTimes' sources speculated that weak sales of the RT tablet might force Microsoft to move this launch date to December. Surface Pro runs Windows 8 and Microsoft is pitching it as a laptop replacement.
Last week Microsoft claimed it had sold 40 million Windows 8 licences since it launched the platform.
Price reduction?
The sources also speculated that Microsoft may consider reducing the Surface Pro's price to boost sales, although this could risk further aggravating the company's relationship with its partners, some of which, including Acer chief executive J T Wang, openly criticised Microsoft for bypassing hardware and supply chain partners with the Surface devices.
The Surface RT sells for £399 to £559, while the Surface Pro will sell in the US for $899 when it launches in the US in January. Microsoft is selling the Surface RT tablets online and through its own retail shops.
Microsoft has downplayed friction with hardware makers, emphasising that it is collaborating with them as well as processor makers and other partners.
"Our engineering collaboration on these Windows RT PCs has been strong," said Mike Angiulo, vice president of Microsoft's Ecosystem and Planning team, in a recent blog post.
'A modest start'
Last month Microsoft chief executive Steve Ballmer, when asked by French daily Le Parisien as to how well Surface RT was selling so far, said: "We are starting off modestly, because Surface is only available on our online store and in Microsoft stores in the US."
Microsoft later released a statement claiming that "Steve's use of the term 'modest' was in relation to the company's approach in ramping up supply and distribution of Surface with Windows RT", rather than sales as such.
Read also :