Avnet Partners Pivot3 To Offer Easier VMware VDI Rollouts For SMBs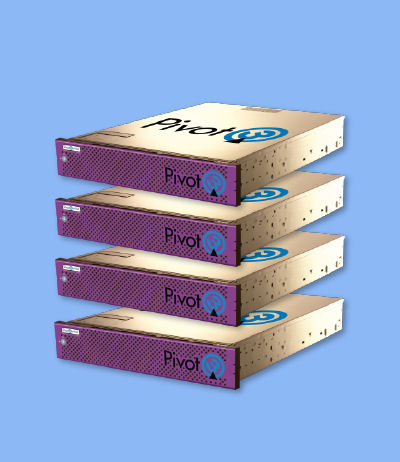 Avnet's virtual desktop infrastructure agreement brings Pivot3's vStac products to EMEA customers
Pivot3 has announced a partnership agreement with Avnet Technology Solutions to distribute the Pivot3 vStac VDI (virtual desktop infrastructure) products in EMEA.
The stackable VDI serverless storage appliance and video surveillance supplier has also launched a professional services package to offer training, installation and consulting support for its product lines.
Simplifying VMware roll-outs
Pivot3's VDI appliance range is aimed at making VMware deployments easier when working with SMBs sized between 100 and 2,500 desktops. The vStac products unify storage and servers and, the company claimed, eliminate the need for specialist IT expertise to configure and integrate separate SAN storage, servers and software.
Ed Bateman, director of software for Avnet's EMEA Wireless and Mobility Business Group, said, "The addition of the Pivot3 vStac products to our portfolio of VDI solutions now enables us to offer a complete out-of-box VMware View VDI solution to countries such as France, Germany, the UK, Nordics, as well as the fast growing Eastern European countries."
Pivot3 also offers Avnet a VDI Channel Ready programme designed to maximise lead opportunity and qualification for systems integrators and VARS. The company has just announced an upgraded professional services package for technology and product training, deployment services, and extended warranty options to help its customers attain their business goals.
Sales packages
Glenn Heywood, area sales manager at Siemens Industry, said, "Pivot3 delivers a high level of support to its go-to-market partners, enabling us to ensure success in all of our project implementations. This professional services package affords us the expertise and resources needed to ensure the operation, safety and dependability of the solutions we deliver around its technology."
The package contains online tools for VDI self-configuration and ROI analysis. Prospects can also test drive a hosted 300 to 400 desktop scenario complete with workload simulation, login storms, scale-out of desktops and performance reporting. Channel Ready has been designed to enhance sell-through with all VMware and Microsoft licence revenues flowing to the resellers, Pivot3 said.
Mike Holt, director of channels and strategic alliances at Pivot3, said, "Together with Avnet's strong VMware reseller network, we look forward to providing these new regions with a compelling VDI proposition that is quick and simple to deploy and also minimises a customer's up-front capital investment needs."
The Pivot3 vStac VDI targets healthcare, education, government and financial services applications. List pricing starts at $29,999 (£19,170) in the US. Avnet will disclose EMEA pricing to its customers on request.
Read also :