Fifty London Overground Stations Switch On To Wi-Fi Access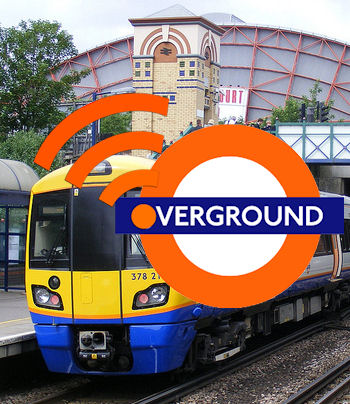 TfL has announced the start of London Overground's Wi-Fi service on the majority of the network
Passengers on the London Overground can now access 60 minutes of free Wi-Fi at 50 of the capital's stations, with anotherl seven stations covered by the end of June.
The service is provided by BSkyB-owned The Cloud, after it agreed a deal last March with London Overground Rail Operations, the company that runs overground services for Transport for London (TfL).
Users will receive an hour of free Internet each day but, should the limit be exceeded, they will be able to purchase additional minutes in bundles ranging from £2.99 for 30 minutes to £11.99 for seven days. Wi-Fi access is available in ticket halls, corridors and on platforms, but not on the trains themselves.
Service interruption
Some stations on London's orbital rail network already had their Wi-Fi switched on prior to today, but work on implementing the service was delayed by the London 2012 Olympic Games. During the games, all non-essential engineering works were suspended to ensure that London's transport network coped with the additional demands placed upon it.
Clapham High Street and Wandsworth Road only became part of the Overground in December and equipment still has to be installed, but passengers will now be able to browse the Internet and view real-time travel information on the majority of stations.
"We are always looking for ways to make the London Overground even more convenient than it already is and believe the introduction of free Wi-Fi can only improve and enhance our passenger journeys," said Peter Austin, managing director of London Overground Rail Operations. "It complements the modern commuting railway service we already offer and is also fitting for what is one of the best performing railways in the UK."
TfL support
"TfL supports the introduction of this new facility as we see direct communications between passengers as perfectly complementing our own information services," added Howard Smith, chief rail operating officer for TfL. "In recent years the value of passenger-to-passenger communication during service disruptions has been well demonstrated and we are happy to further enable and support that phenomenon as an enhancement to our modern, 21st Century railway in the capital."
Virgin Media currently operates a separate Wi-Fi service for the London Underground, which was free until January when it became a paid-for service.
Read also :