PC Vendors Will Have To Keep Taking The Tablets, Says Canalys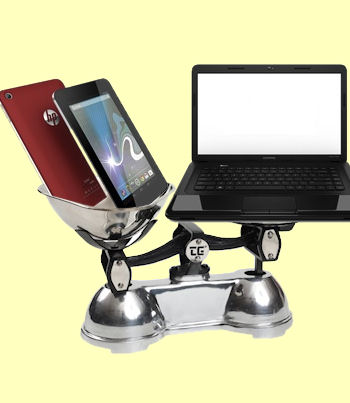 Tablet sales have become a key driver for PC vendor growth, according to a report from researchers at Canalys
Sales of tablets are keeping most PC vendors afloat, according to a report from Canalys. The analyst firm's latest forecasts for the PC market (desktops, notebooks and tablets) predicted that 493.1 million units will ship in 2013, representing a seven percent year-on-year growth.
It said the key driver behind this growth would be tablets, accounting for 37 percent of the market, up from 25 percent in 2012.
Notable decline
The analysts said that, by 2017, worldwide shipments of PCs would be 713.8 million units, a compound annual growth rate of 9.7 percent – with 64 percent being tablets and 25 percent notebooks.
While tablets are on the rise, the worldwide market for desktops and laptops has waned. In the first quarter of 2013, the desktop market fell 10.3 percent and the notebook market declined 13.1 percent.
One ray of light for PC vendors will be sales to businesses. Canalys said these would be far stronger than those to consumers. This trend favours the likes of HP and Lenovo, though competition will increase as others shift resources toward the commercial channels to maximise their opportunity, according to the firm.
The size of the tablet market, however, more than doubled in Q1 2013, with a 106.1 percent increase in shipments to 41.9 million units. Shipments show no sign of slowing and the firm forecasts that in 2013 tablet shipments will reach 182.5 million units, with global tablet shipments surpassing those of notebooks in the final quarter of the year.
While the reception to Windows 8 has been less than stellar, Canalys said there was a "glimmer of hope" for  OEMs with Microsoft's plan to release Windows 8.1 as a free upgrade.
"Microsoft will continue to innovate. New versions will come and its OS release cycle will gain speed. But it must address some of the criticisms that have been directed at the OS's user interface or it risks losing even more ground to iOS and Android in the PC space," said Tim Coulling, senior analyst at Canalys.
PC vendors have now come to market with cheaper Android devices, notably Acer, Asus and HP, but these vendors are joining a crowded market, according to the firm.
"Shipment numbers can be high but absolute margins on these products are expected to be small. Low-priced tablets will not be lucrative but it is necessary to compete or a vendor will simply lose relevance and scale. In fact, accessories, particularly cases, as well as the new generation of high-tech 'appcessories' will likely provide higher margins than the products themselves,' said Pin-Chen Tang, a Canalys research analyst.
He added that this influx of Android devices will provide a boost to the platform and therefore it is expected that Android will take a 45 percent share this year, behind Apple at 49 percent.
"The iPad Mini is expected to continue selling well, becoming more significant in terms of the product mix and spawning a further increase in consumer demand for smaller tablets," he said.
Read also :