Channel Wallflowers Are Squandering BYOD Opportunities, Warns Analyst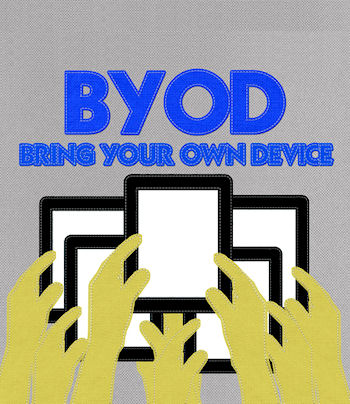 If you don't get in now, someone else will be entrenched in enterprise mobility
Resellers are missing out on the enterprise mobility market by failing to take the initiative, a top channel analyst has warned, in an exclusive interview with ChannelBiz UK.
Many channel players are sitting back and waiting for the bring your own device (BYOD) trend to create problems they can solve, rather than take a proactive approach to leading clients, said Clive Longbottom, senior research analyst with Quocirca.
Grief stricken
"BYOD is a conundrum for enterprises but it seems to be like garlic to a vampire as far as the channel is concerned," said Longbottom.
Companies are moving through the classic stages of grief (from denial to acceptance, by way of anger, bargaining and depression) without the reseller's involvement. If they only get involved at the final stage – acceptance – to provide mobile device management (MDM), they may find its too late, Longbottom warned, and will have lost many opportunities in the interim. 
The analyst proposed an alternative series of stages of dealing with "BYOD grief". The first concerns the major issue of contracts: "To get a device at the cheapest price, the employee goes for a high tariff and expenses it. Multiple that by 100 people paying £35 a month and that's £3,500 per month on expenses for 350GB of data."
Rationalising this cost is a major opportunity, said Longbottom. Resellers should be providing a range of devices and aggregating the mobile and data contracts to provide an instant ROI. Reporting and analytics on activity could be offered as a value add service.
Stage 2 of dealing with BYOD grief, said Longbottom, is to offer a secure corporate portal with preferred apps. "Give them Box rather than Dropbox, Lync rather than Skype – and pre-load some apps on devices," said Longbottom.
Acting as a cloud aggregator, for Office 365 and other cloud-based services, is the next stage that resellers should be involved in when dealing with BYOD grief, he said. "You already own the device, having provided all of them to the company," he said.
Once established, the reseller becomes part of the organisation and an advisor on everything from new devices to maintaining the intellectual property through VPNs, IT security and centralised content storage.
Soon resellers will be moved on to the next stage, Integration of existing apps and securing of employees. Eventually the reseller will have a client that accepts that they are completely dependent on their reseller partner, argued Longbottom.
"Work towards an evergreen approach, where you build in device upgrades every two years, " said Longbottom, "this moves the channel from selling in after-fit solutions to problems that the solution doesn't solve, to being the prime provider for everything – you name it," said Longbottom, who called on the channel to up their game.
" Yes, it needs more work from the channel to be proactive rather than reactive.  But it will pay for itself in spades," said the analyst.
Read also :