Target Components Announces Open Day Sales Workshops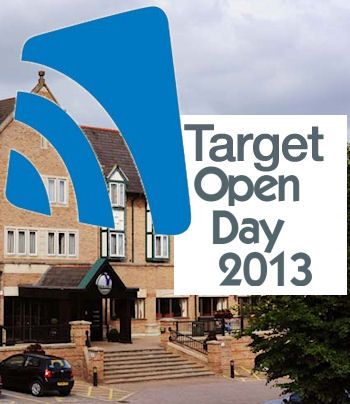 ShopTalk workshops to help channel increase sales and build their businesses
Distributor Target Components is has given details of its annual Open Day Shoptalk workshops taking place at the Leeds De Vere Village Hotel on 13 September.
The workshops will run during the firm's Open Day to give practical sales advice to the channel and will be followed by an evening of entertainment and customer awards.
Popular target
The distie, celebrating its 15th birthday today, said the workshops have proven to be a popular part of  past open days as the content has always been created specifically for independent IT resellers.
Four sessions run over the course of the day, which starts at 10:00am. The first session looks at the second National Retail Price Comparison survey and how this information can be used to maximise sales and profits while taking on bigger competition.
The second workshop may seem a little more obtuse because it considers the success of British cycling and how the lessons learnt can be used to create success for resellers. This session looks at where to find inspiration as well as how to identify success factors and implement them in business. It shows how a number of small changes can combine to have the greatest effect in business.
A third session covers how and when to compete on price and the best and worse ways to go about it. The final session looks at practical tips to win business, highlighting where and how independent resellers should focus efforts for maximum impact and how to be successful with limited resources.
"Our customers aren't interested in sales pitches dressed up as advice or in the same old generic advice dug up from the internet. They want practical help on how to genuinely improve their business," said Target managing director Paul Cubbage. "That's why we create original content for all our Shoptalk sessions based specifically on the needs of small IT resellers. Everything in the workshops is brand new. That's why they have proved so popular with our customers."
In addition to Target's workshops, Microsoft will also be presenting two sessions. One covers Windows 8.1, its features, benefits and changes from the initial release. The second workshop is on the features of Office 365 and how to sell it.
More details on the sessions can be found here.
Read also :