Brocade Weaves New Virtual Fabric For Multi-Tenancy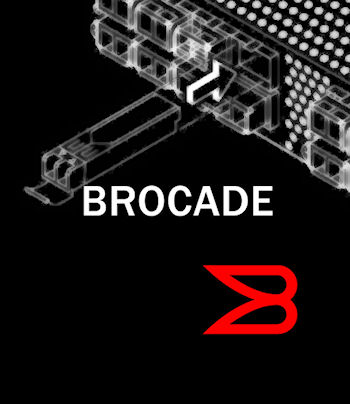 Updates to VCS Fabric and new VDX switches rings changes in cloud infrastructures
Anticipating a move from cost-cutting implementations of cloud infrastructures to a new wave of innovative services, Brocade has introduced its Cloud Data Centre Solutions initiative to offer a "streamlined" path to creating high-performance services.
The company has added a number of features to its VCS Fabric and extended its VDX switch portfolio to offer new multi-tenancy capabilities and storage-aware networking, with 100Gbit Ethernet performance.
Multiple challenges
Multi-tenancy Blueprint forms one of the important updates to Brocade's range. The blueprint aims to collate all tools necessary for network multi-tenancy that can scale from server to WAN.
Brocade is also touting updates to its VCS Virtual Fabric. According to the firm, this will provide an alternative to overlay networks for multi-tenancy at scale by employing standards-based network segmentation techniques. The company reckons this will make the fabric easier to incorporate into the network, without requiring much extra learning. The company also revealed its new VCS AutoQoS which automatically recognises and prioritises storage traffic on the network.
In the hardware department, Brocade has added to its core switching devices for data centres with the launch of two "top-of-rack" switches, the Brocade VDX 6740 and VDX 6740-T. Both feature VCS Virtual Fabric support and their 40GbE to 160GbE trunks offer the industry's highest uplink capacity in a leaf switch, according to the company.
The switches also boast 32 flex ports, which can be used for Fibre Channel, Ethernet, or Fibre Channel over Ethernet which, the company said, offers customers another level of investment protection. It also supports OpenFlow 1.3 with the firm also offering a 100GbE line card for the VDX 8770 modular chassis.
To support its strategy, Brocade points to IDC research. Worldwide spending on public IT cloud services will reach $47.4 billion (£29.6bn) in 2013, and is expected to reach more than $107 billion (£67bn) in 2017, according to IDC senior vice president and chief analyst Frank Gens.
"Over the next several years, the primary driver for cloud adoption will shift from economics to innovation, as leading-edge companies invest in cloud services as the foundation for new competitive offerings," he said.
Brocade believes this will create challenges as cloud hosts and telcos up their game to provide better support levels to accommodate the predicted growth and to deliver innovative services to maintain and increase their customer bases. Cost-effectiveness will be under the microscope in this increasingly competitive market, the company argued.
Jason Nolet, vice president of data centre switching and routing at Brocade, said the VCS Fabric technology "addresses the most challenging data centre requirements, including network multi-tenancy, network intelligence for exploding storage growth and the emerging adoption of 100 GbE for ever-increasing bandwidth consumption".
Brad Casemore, research director for Datacenter Networks at IDC, said the ability to isolate tenants securely in a shared infrastructure environment is paramount to today's cloud-service providers and to enterprises adopting private cloud.
"Traditional approaches to network segmentation have been around for years, and virtualisation and cloud computing have exposed their inherent limitations, especially in relation to flexibility and scalability," he said.
Casemore added that technologies such as Brocade's VCS Virtual Fabric promise to "address this challenge by delivering multi-tenancy at scale, enabling enterprises to maximise the number of tenants they can support by leveraging segmentation constructs with which network administrators are familiar, thus minimizing both the learning curve and operational overhead".
The VDX 6740 and 6740-T switches can be ordered now starting at $15,995 (£9,908). The VDX 8770 100GbE blade will be available in the first half of next year.
Read also :