SimplyFixIt Warranty Is Ideal Solution To Cracked Screen Problems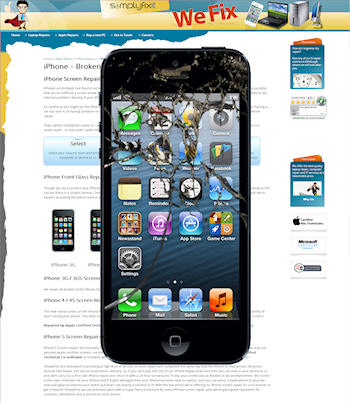 Cracks in the BYOD strategy underwritten by Ideal's iPhone and iPad repair promise
The design of Apple's mobile devices makes repairing damaged screens a specialised job. Computer specialist Ideal Computing has launched a repair service catering for this new challenge in the era of bring your own device (BYOD).
The SimplyFixIt service could be, and has been, emulated by other channel players but the Edinburgh-based repair shop has added a warranty policy that allow users of its repair service for iPod or iPhone screens to cover their device against accidental damage for a further 90 days or 12 months. The company claims it is the only repairer in the UK to offer this kind of guarantee.
No broken promises
The terms and conditions of telecoms contracts combined with the fragility of iPhone and iPad screens often leave users in a difficult position if the device they rely on for work use is damaged. Faced with buying a new phone, most users would prefer to opt for the cheaper option of repairing the damage. SimplyFixIt claimed its Apple Certified technicians could not only repair the damage but its warranty would also secure the user from future expense.
Jason Eccles, SimplyFixIt's operations manager, said, "Anyone who brings their iPhone or iPad into one of our six Edinburgh stores to repair or replace a broken screen can pay an extra £10 or £25 to receive an upgraded warranty. If they break their screen again within either 90 days or 12 months, depending on the option they have chosen, then they are eligible for a free repai. Considering the usual cost of repairing a broken screen, this is a substantial saving, especially for those accident prone people who seem to break their screen on a regular basis."
The company also accepts damaged devices by post and offers free return delivery, or a courier pick up and return at extra cost. Each step in the process is electronically monitored and customers are notified by email at each step of the repair process.
The thin line between touch screen functionality and the fragility of the glass screens has exposed a service opportunity which Ideal aims to capitalise on by offering its warranty deal. However, the company has prepared itself for a battle because it has thrown down the warranty gauntlet: "It is sure to inspire other repair shops around the country to follow suit," it said in a release.
Read also :