IBM and CSC ink hybrid cloud deal for enterprises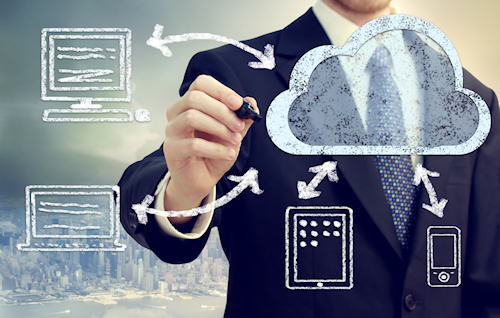 This deal follows IBM's move at the end of last year to make it easier for firms to link to IBM Cloud
IBM and CSC have expanded their partnership to help global enterprise clients accelerate their transition to the cloud. This includes the modernisation and development of key applications that support mobile, analytics and cognitive intelligence across hybrid cloud deployments.
Under terms of the expanded agreement, IBM Cloud will become a key component of CSC's next generation IT strategy to deliver innovative solutions that meet complex compliance requirements of global enterprise clients.
The integration of the IBM Cloud with the CSC Agility Platform will enable clients across multiple industries – including healthcare, insurance and finance – to quickly and securely leverage the benefits of the hybrid cloud and deploy applications that "deliver rapid proof of value", said the two companies.
CSC has already begun the training of a substantial number of developers to enable them to rapidly prototype, develop and deploy next generation applications that leverage more than 120 API's and cloud services IBM has available on its Bluemix cloud platform.
The CSC Agility Platform enables clients to use hybrid clouds across multiple cloud providers, as well as their traditional IT environments. Today's announcement will secure the ability for CSC clients to leverage IBM Cloud services in a hybrid, multi-cloud model.
"The addition of IBM's cloud into the portfolio of clouds managed under the CSC Agility Platform further validates our strategy of creating client value through the orchestration of multiple cloud platforms," said Mike Lawrie, CSC CEO.
"Our expanded partnership with IBM will help us accelerate the delivery of next generation applications that give our joint clients greater flexibility, safety and control of their data as they design and adopt hybrid cloud strategies."
Robert LeBlanc, senior vice president, IBM Cloud, said: "Working with CSC will provide greater value to our joint clients, helping them leverage the IBM Cloud to speed application development, data analysis, and faster value from their products and services across hybrid clouds deployments."
At the end of last year, IBM said it was expanding its Direct Link services through new collaborations with Verizon, Equinix and Digital Realty, among others, to help enterprises more quickly and easily adopt a hybrid cloud infrastructure.
Many organisations, said Big Blue, are demanding a reliable and secure connection to the cloud, rather than sending data over the public Internet. IBM Direct Link addresses this issue by enabling enterprises to directly plug into the IBM Cloud through private and secure IP network connections.
@AntonySavvas
Read also :