Dell warns of PC business decline ahead of EMC acquisition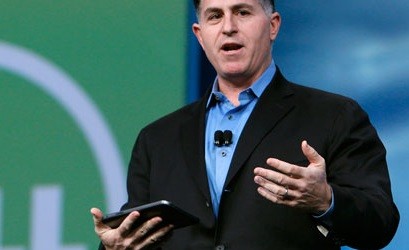 The company's annual revenues fell six percent in the last fiscal year as it prepares for its record-breaking acquisition
In a new securities filing Dell has confirmed the major challenges that stand in the way of its proposed acquisition of EMC, including Dell's own reliance on its declining PC business, while remaining optimistic about the combined company's chances for success.
Dell's holding company, Denali Holding Inc (DHI), said in the 341-page Form S-4 filing that it expects to take on about $59.1bn (£41bn) in debt as a result of the acquisition. And it confirmed its previous statements that it plans to take aggressive measures to pay down this debt within the first 18 to 24 months after the merger – in part by selling off what it called "non-core" assets of the combined company, including EMC assets.
Dell said it also expects to use cash flow and a reduction in operating costs resulting from the merger to help pay the debt.
The company has already begun trying to divest business units, with the sale of its Perot Systems unit to Japan's NTT DoCoMo reportedly close to completion. Other units Dell has been trying to sell include the Qwest software business and the SonicWall security unit.
Dell didn't provide any details in the filing on which of its own or EMC's businesses it plans to sell off.
The company also confirmed the ongoing decline in its overall revenues, reporting $54.9bn in annual revenues for the fiscal year ended 29 January, a 6 percent decline on the previous year.
DHI recorded a $1.1bn loss for the year, 10 percent up on the $1.2bn loss for the previous year, with operating cash flow at $2.2bn, down $2.6bn year-on-year, according to the filing. Operating expenses were reduced by 4 percent year-on-year to $10.2bn, Dell said.
Much of the filing is devoted to detailing the merger's possible risks, which Dell said include a reduction in demand for PCs, increased competition and a market shift toward mobile devices.
"The built-to-order model that Dell has historically used is losing competitiveness in an environment where profit pools are moving toward lower-margin segments primarily based on a build-to-stock model, and Dell also lacks a strong offering in tablets," Dell stated.
Dell acknowledged that many partners are likely to renegotiate their relationships with the combined company in the event that the merger goes through, and that the tracking stock it is issuing linked to EMC's VMware unit may trade at a discount to the estimated value of the business.
The acquisition is expected to close between May and October, with Dell rumoured to be pushing to complete it as early as possible.
At the time the deal was proposed, last October, its cost was estimated at about $67bn, but the declining share price of VMware has currently brought that down to around $60bn.
The European Commission cleared the deal late last month.
Read also :