Microsoft Surface Hub AV solution starts shipping

Giant Surface Hub starts rolling out more than a year after Microsoft first announced its vision of workplace collaboration
Microsoft's giant Surface Hub is finally shipping to business customers after a series of delays, with the huge displays allowing businesses to collaborate using Windows 10.
The Surface Hub was first detailed by Microsoft in January 2015 and before the most recent delay had been slated for a launch on New Year's Day. However Microsoft missed this target, stating it needed to take the "right steps" to ensure the device was a success.
The new devices are not cheap. Surface Hub is available in either 55 inch HD or 84 inch 4K editions, costing £7,399 and £18,299 respectively.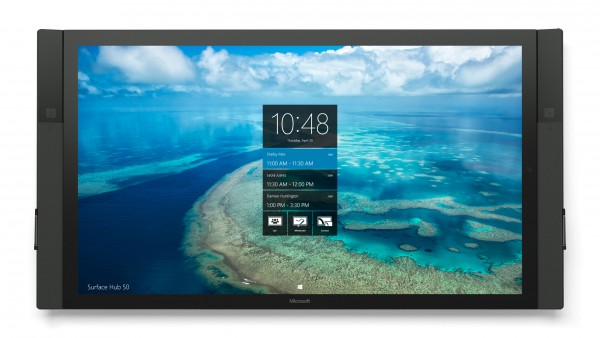 Surface Hub is a large screen whiteboard style device that runs a customised version of Windows 10 and is intended to replace traditional whiteboards in schools and offices.
Microsoft is hoping that the device will show off the real potential of some of Windows 10's top services, including Skype for Business and the interactive functions in Office 2016.
"Our Surface team is incredibly passionate about helping people be more productive. We live and breathe this mission every day," said Brian Hall, Microsoft devices marketing general manager.
"We are releasing a team-empowering solution that will make meetings more productive, modernise workflows, and let people engage with data much better."
The company has already been working with a couple of early customers, such as AstraZeneca and the Children's Hospital of Philadelphia, to show off the benefits Surface Hub can bring.
The collaborative Surface Hub can detect 100 points of multi-touch and up to three simultaneous pen inputs. It has dual 1080p front-facing video cameras, and a four-element microphone array that detects and follows voices to eliminate background noise during videoconferencing sessions.
There is also built-in Wi-Fi, Bluetooth 4.0, NFC and a variety of ports for easy wired and wireless connectivity options, allowing devices to share content to the screen.
The product will also be a key part of getting Microsoft's range of Windows 10 software into new environments, as part of the company's drive to get it installed on a billion devices.
Read also :