Option releases quad-band LTE modem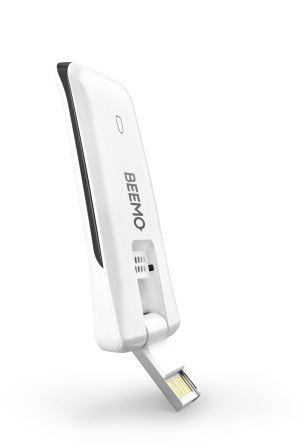 The new Beemo USB modem from Belgian equipment maker Option connects over the 800/900/1800/2600MHz bands and can be customised by operators
Belgian mobile broadband equipment maker Option has released a quad-band LTE USB modem for the European market, featuring connectivity over the 800MHz, 900MHz, 1800MHz and 2600MHz spectrum bands.
The device, which connects via a fold-out USB plug, has been designed to dissipate heat efficiently and features an external antenna connector that can be used to improve signal strength.
Custom experiences
Option, which provides its products through mobile operators, original equipment manufacturers, retailers and enterprises, is selling the modem with its uCAN Connect 3.0 connection manager software on board.
The software allows operators to create custom experiences for different market segments through the use of various skins, languages and settings, according to Option. Alternatively operators can provide their own connection manager tools, Option said. Operators can also choose whether to include the external antenna with the package or sell it as an accessory.
The modem can connect to 3G networks when outside of LTE coverage areas, according to Option. The company said it will announce its first operator customers soon.
LTE rollouts
The quad-band modem arrives as LTE rollouts are gathering pace in Europe. Everything Everywhere (EE) may become the first UK operator to offer such services in the UK later this year, as part of an agreement with Ofcom that came to light in February, although rivals are contesting those plans.
EE's plan would see it offering LTE services using its excess 1800MHz spectrum, currently used by GSM services. Operators in the Middle East are also rolling out LTE services using the 1800MHz band in conjunction with 900MHz spectrum.
In the UK, 900MHz spectrum is mainly owned by Vodafone and O2, and is considered valuable because of its ability to penetrate deeper into buildings. It is also expected to be used in 4G deployments in Sweden.
Ofcom's long-delayed 4G spectrum auctions are to award spectrum in the 800MHz and 2600MHz bands to UK operators. Those auctions are currently scheduled for later this year.
Read also :