UK channel notes spending decline as semi spend drops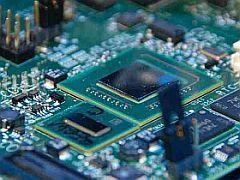 Eurozone crisis continues to slow semi market growth
Semiconductor revenues dipped during the second quarter, with the major manufacturers and channel players struggling with tightened spending in the Eurozone.
Figures released by analyst house IHS iSuppli showed a 3 percent drop in revenues for the quarter, as compared to the previous year.  Worldwide sales of semiconductors dropped to $75.2 billion in the second quarter, down from $77.5 billion at the same point in 2011.
Furthermore, the sequential increase from the first quarter of this year was lower than had been expected.  Growth from a traditionally lacklustre first quarter was less than 3 percent, with at least a 4 percent increase expected.
Two thirds of the top ten manufacturers saw their revenues decline in this period.  Intel saw revenues grow 3.1 percent, Samsung was up 5.8 percent, while Qualcomm soared 23.7 percent on smartphone sales – however this was counterbalanced by various others, such as Texas Instruments, Toshiba and STMicro seeing double digit declines.
According to analyst Dale Ford, senior director of electronics and semiconductor research at IHS iSuppli, this is due to a variety of pressures "including the Eurozone crisis, slowing manufacturing growth in China and stubbornly high unemployment in the United States".
European market sees revenue decline
The view from the channel in many cases reflected the fortunes of the major manufacturers.
ChannelBiz UK approached Avnet for its view of the semi market through distribution.  While Avnet was unable to provide comment, Georg Steinberger, VP Communications at Avnet Electronics Marketing EMEA, pointed us towards the recent Distributors' and Manufacturers' Association of Semiconductor Specialists (DMASS) figures, the semiconductor industry body of which Avnet is a member.
The DMASS figures, released last week, also show a decrease in revenues, with a 14.7 percent decline for the European semiconductor market, dropping to €1.46 billion ($1.86 billion) for the quarter.
Commenting in his capacity as chairman of DMASS, Steinberger said that spending in the first half of 2012 "remains weak".
"We are still facing a very quiet market today, with uncertainties around the overall economical situation in Europe. Although the second half will be inevitably better in relative terms, 2012 won't be a growth year either, that much is clear."
2012 will end with a small minus for the European market, he said, provided no macro-economical problems occur.
UK channel players feeling the pinch
On a UK level, companies operating in the channel are finding the market tough to operate in. Barry Tutin, sales director at non-franchise semiconductor  distributor Kestrel Electronic Components, says that the picture is more complicated further down the channel, and while there are clear declines being felt, it is less clear cut for many business.
In general terms this means business is down, he says, though the situation can change depending on which market semiconductor suppliers are servicing in the UK.
"I talk to a lot of customers," he says, "some are very busy and others are very quiet, it really depends on what sector you are in.
"If people are operating are in, say, the leisure industry, people are cutting back on that.  If you are in the food industry or security or a market that is really flying then they are still very busy."
Tutin says that the effects have not been felt in a quantifiable way represented by the IHS iSuppli stats – "Personally I haven't noticed it a great deal but business is down" – and he says that this is largely due to the effects of the economic situation in the Eurozone.
"Without a doubt," he says. "Some people do quite a bit of exporting to Europe, and I know a few customers who say they are not doing anywhere near as much.  Others are selling to Asia, which is unusual."
Optimism is not riding high for a change of fortunes early next year either with a lack of resolution on the horizon in the eurozone: "No-one knows what the situation will be; Greece is still in shit street.  I don't see things doing much better in 2013, I can see the situation going on for another two or three years at least."
Nikko Electronics, which sells semiconductor components to manufacturers as well as to shopfront customers, also says that it is seeing the effects of a decline in spending across the market.
"You can say it is slowly declining," we were told. "General overview is it is in decline."
It is not dead however, we were told, though the market it is not considered to be in the state of health "as before".  This has made it difficult to base its own business purely on semiconductor sales.
"We only sell semiconductors and integrated circuits and we have survived just on that, other people have branched out into mainstream electronics."
Read also :