IBM Power Systems And Storage Deal For Ingram Micro And Tech Data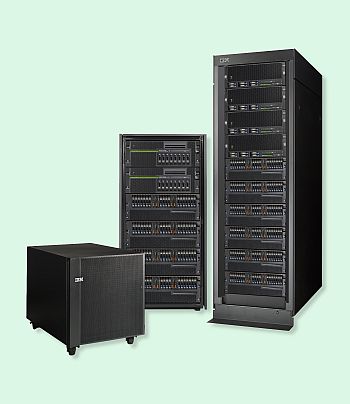 In the US, IBM has enlisted Ingram Micro and Tech Data to chase the big midmarket dollars with Power Systems and storage products
IBM has expanded its distribution strategy and has authorised two distributors, Ingram Micro and Tech Data, to sell IBM Power Systems and enterprise-class storage products in the United States.
The move represents an expansion of existing relationships IBM has with the two companies and they join distributors Avnet and Arrow in this space, effectively doubling IBM's efforts in this regard.
Moving up
This distribution channel expansion signals an aggressive focus by IBM on the fast-growing, midsize customer segment for midrange to high-end servers and storage, a growth area fuelled by the ever-increasing data computing and storage needs of modern midsize businesses. IBM estimates the midmarket segment to be a $160 billion (£100bn) opportunity in North America alone, growing at a rate IBM estimates to be three percent annually.
In a post about the expansion on IBM's PartnerWorld blog, Bill Donohue, vice president of North America business partners and midmarket sales for IBM, said, "With this announcement, all four distribution partners – Arrow Electronics, Avnet Technology Solutions, Ingram Micro and Tech Data – will be able to drive the sale of IBM integrated products, including System x, PureSystems and FlexSystems, Power Systems, System Storage, IBM Software, Global Services and Global Financing – and expands our distribution support and capacity across our IBM Business Partner community."
The addition of Ingram Micro and Tech Data to the portfolio of IBM's full-line distributors is primarily for the purpose of distribution route expansion to reach new reseller and client segments, especially in the midmarket, "which is the fastest-growing segment in North America", Donahue said.
He added that IBM is interested in reaching resellers that have relationships with independent software vendors (ISVs), managed service providers, cloud providers, as well as other resellers who do not currently have an IBM Power Systems or a System Storage resale relationship.
"IBM clients will have greater access to the breadth of IBM products and integrated solutions, including Smarter Planet solutions, through a larger group of resellers who are trained and skilled to sell to the midsize customer segment," Donahue said.
Big opportunity
Tech Data said its dedicated and expanded IBM team provides resellers with technical expertise, partner enablement and training, programme management, and sales and marketing support to help both current and new IBM business partners employ the full IBM portfolio to drive new growth and margin opportunities.
"The relationship between Tech Data and IBM is an incredible opportunity for our solution providers to grow their compute and storage practices, while expanding their markets," Chuck Bartlett, vice president and general manager of the Advanced Infrastructure Solutions division at Tech Data, said in a statement.
"Through this relationship, Tech Data now offers a full range of IBM services and solutions to our resellers. The addition of IBM's Power Systems and enterprise-class storage solutions to our AIS offering represents dynamic services and superior economics to help improve business efficiency, while enabling our resellers to meet the rapidly growing demands of Big Data for their end-user customers," he added.
More power
The IBM Power Systems family includes a series of servers, systems software and solutions featuring the latest Power7 and Power7+ processor technology. The systems are designed for compute-intensive workloads and business analytics, and IBM provides a full range of offerings to help meet the needs of businesses of all sizes – from entry-level systems, including BladeCenter, Power Express and PowerLinux servers, to the Power enterprise systems 770, 780 and 795.
The System Storage line, also available to authorised IBM Business Partners in the US, incorporates a wide range of systems that offer high-speed disk, solid-state storage, and tape, to help customers manage the challenges of Big Data more efficiently and cost effectively. In addition, robust storage virtualisation and cloud offerings combine with a variety of integrated automation capabilities to round out the portfolio and help customers create smarter storage infrastructures, IBM said.
"The addition of IBM's Power Systems and enterprise-class storage families to Ingram Micro's growing portfolio of data centre solutions is well-timed, given the increased focus enterprises are placing on Big Data, cloud and network optimisation," said Paul Bay, president of Ingram Micro North America, in a statement.
"One of our top priorities in 2013 is to further enable our channel partners to move up-market and address the business and technology needs of midmarket companies. The resources and expertise offered within our Advanced Computing Division, combined with IBM's portfolio of servers and systems, provide our mutual partners with a competitive edge," he said.
Read also :