NetSuite Kicks SAP And Announces First Full-Blown UK Conference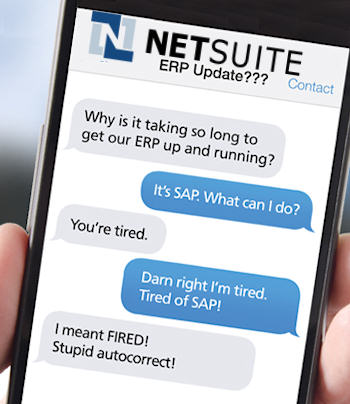 NetSuite calls on all users, partners and potential resellers to attend London event
Financial and business management Software as a Service provider NetSuite is on a high at the moment. Its first UK SuiteConnect user conference and partner training sessions are planned for next month and Gartner has placed it as the fastest growing financial management vendor worldwide.
NetSuite has strengthened its channel efforts in the UK and the Emea Partner Day on 11 November will bring together existing and new Solution Provider Partners for training and updates on the company's technologies and services opportunities.
Sapping strength
To start the NetSuite SuiteConnect world tour, the company has chosen to kick SAP with a bruisingly aggressive advertising campaign in The Wall Street Journal which suggests anyone installing SAP should be fired and implying the German firm's products are "yesterday's software".
Zach Nelson, president and CEO of NetSuite, said, "The basic idea is around the fact that no executive in their right mind should select, or continue to invest in, stone-age business systems developed before the modern internet existed. While our ad specifically calls out the risk of continued investment in SAP, SAP is just a metaphor for all pre-cloud products that are holding businesses back today."
He added that SuiteConnect, on 10 November, will show CEOs, CFOs, finance executives, operations executives, marketing, sales, e-commerce, and services managers how disruptive innovation is changing the face of traditional industries. Technology is now a high-priority boardroom agenda, Nelson said and creating modern enterprises using the cloud enables globalisation, agility, control and mobility to be implemented rapidly.
For the two days of the conferences, Evan Goldberg (pictured), NetSuite founder, CTO and chairman, will be present and partners will be able to hear what is in store for NetSuite's development and expansion of its online services.
During the morning sessions of the Partner Day, resellers will hear updates from the regional management team, product management, and marketing. The afternoon will be devoted to training sessions and experts will be on hand to help partners maximise their success when promoting and selling NetSuite into target markets. These targets include retail and e-commerce, wholesale and distribution, manufacturing, services, and software companies.
Course participants will include CFOs, CPAs, accountants, controllers, financial managers and bookkeepers. The company said that attendees should be familiar with NetSuite navigation and features. To learn how to perform common tasks in the unified business suite, a set of videos is available on the company website's SweetAnswers section.
Read also :