Cisco has strong quarter despite drops in switch, data centre spending

Growth in Cisco collaboration, security and routing businesses offset declines in switching and data centre products caused by macroeconomic issues
Cisco Systems officials were able to pull together a strong financial second quarter despite strong competition and a volatile global economic environment while at the same time continuing to rapidly evolve its business model.
The company has announced that during the last fiscal quarter, revenue jumped 2 percent over the same period in 2014, to $11.8 billion, while net income, at $2.9 billion, increased 8 percent.
This was accomplished despite a microeconomic picture and instability in the global markets that hurt sales in some of Cisco's business areas, including network switches – particularly in its campus business – and the data centre.
However, Cisco saw strong growth in other areas, including routing, collaboration, security, service provider video and its cloud-based businesses, according to CEO Chuck Robbins. The fact that Cisco was able to offset slowdowns in some of its key businesses with growth in several newer areas, is an indication that its efforts over the past several years to expand beyond its networking roots into a wide range of areas – including the Internet of things (IoT), security, collaboration and the cloud – is taking hold.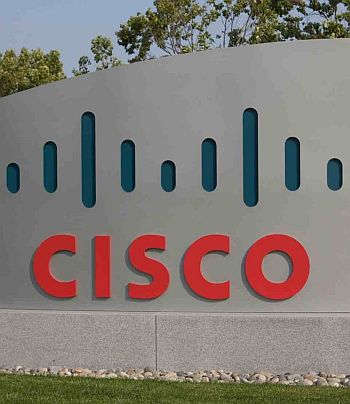 It's an initiative that Cisco is pursing both through in-house development as well as an aggressive acquisition strategy. Most recently, the company last week announced it is buying Jasper Technologies for $1.4 billion, a move officials said will enable Cisco to offer customers a more complete IoT portfolio.
"Our portfolio is more strategic than ever to companies and countries that are digitising everything," Robbins said during a conference call with analysts and journalists. "As billions of things become connected, creating massive amounts of data, Cisco is playing an increasingly critical role, enabling our customers to drive their priorities with industry-leading security.
"Cisco is unique in our ability to connect everything for our customers, from the sensor to the data centre, with security and analytics. As a result, our conversations are no longer just in IT. They have become prevalent in the C-suite and the boardroom."
The volatility in the global markets in January impacted the final numbers from the quarter, according to Robbins. Economic struggles in China had a ripple effect through markets worldwide, causing many enterprise customers to slow their spending on some technologies, such as switching products for their campus environments. However, there were other areas where they continued to focus on.
"What we saw was that our customers were spending in areas that are incredibly mission-critical for them even in these times where there's uncertainty," the CEO said. "So you see them continuing to spend in security. You see them continuing to spend in the next-generation data centre evolution, which was indicative of the 100 percent growth we saw in that portion of our portfolio."
Read also :