Citrix Names Michelle Senecal De Fonseca New VP For Northern Europe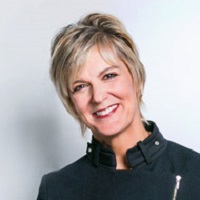 Vodafone exec brings cloud experience to Citrix; tasked with driving growth and innovation
Citrix has announced Vodafone cloud MD Michelle Senecal de Fonseca as its VP for Northern Europe.
Senecal de Fonseca (pictured) replaces Jacqueline de Rojas, who left Citrix for Sage this summer. Reporting to Sherif Seddik, VP, sales & services in EMEA, she will be responsible for the development of Citrix sales and services operations in the Northern Europe region (comprising UK/Ireland and the Nordic countries). She will achieve this, according to the vendor, by "driving revenues, executing an aggressive growth strategy and cultivating the company's valued partner ecosystem."
"It is an exciting time to join Citrix as it places greater emphasis on cloud services," said Senecal de Fonseca. "Work is increasingly digital and virtual. To be productive, we all need a seamless user experience across different devices and platforms…I am looking forward to helping Citrix customers across Northern Europe build and implement innovative cloud strategies."
Cloud experience
Prior to joining Citrix, Senecal de Fonseca was global managing director for Vodafone Cloud and Hosting Services – part of the Vodafone Global Enterprise group – responsible for all areas of the business including sales, strategy, product and service development. Over her 25-year career she has also held positions at Cable and Wireless, the European Bank for Reconstruction and Development and NextiraOne. Senecal de Fonseca is also a non-executive director at FDM Group, and a co-founder and board member of the Women in Telecoms and Technology (WiTT) group.
"Michelle's experience and expertise will provide invaluable support and insight for many of our customers in Northern Europe as they embark on their cloud journey," said Seddik. "Adopting cloud technologies in the enterprise is much more complex than just downloading an app. Companies have to rationalise all of their past, present, and future investments and tie them together seamlessly as they progress toward the cloud future. I am excited and confident in Michelle's ability to drive the business forward and help Citrix achieve its cloud-centric future."
Read also :