App Allows NetSuite Users To Access Centralised Accounts On The Road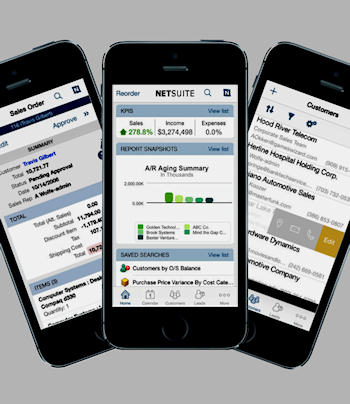 An iPhone app will allow sales and services staff to accessERP/CRM and stock levels information
NetSuite has claimed the release of its upgraded iPhone app marks the arrival of the first iOS 7 cloud-based financials app on the market. Downloadable from Apple iTunes store, the app allows NetSuite customers to access their enterprise resource planning (ERP) service from anywhere they can set up an internet connection.
NetSuite for iPhone 2.1 allows greater freedom for mobile sales teams to work from where they choose, including customer premises, to keep financials, customer resources management (CRM) and e-commerce cloud up to date and up to the minute, the company claimed.
Improved performance
The app features home dashboard synchronisation to allow access to ERP business intelligence (BI) content including key performance indicator (KPI) metrics and scorecards, trend graphs, and report snapshots. It also support the updating of leads, customers and sales orders, and sales order approvals or even to permit customer payment acceptance with instant localisation of pricing in multiple currencies, depending on location.
Phone users can also use gestures to speed up call-making or to map customer locations,
Malin Huffman, NetSuite's director of product management, said, "The quickening pace of business and a fast-growing mobile workforce require rich mobile applications that extend data access and transactional capabilities from the desktop to mobile devices. NetSuite for iPhone takes the value proposition of the NetSuite cloud a step further by delivering mobile capabilities critical to today's on-the-move professionals."
The company gave examples of how the app could help businesses. A sales rep in wholesale and distribution could get immediate access to inventory data that would show availability and delivery dates as an order is being taken. Similarly, a service technician could look up a customer's previous orders, customer service calls and notes while on-site to reduce service time.
NetSuite for iPhone is available as a free download from iTunes. An Android version is currently available.
Read also :