IB And Arrow Join To Expand Reach Of Self-Service BI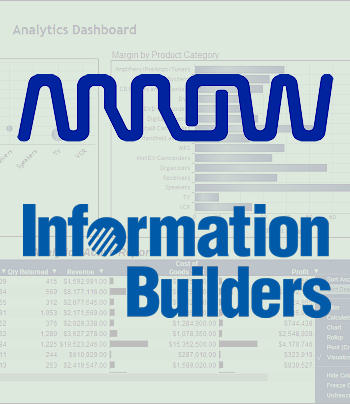 Information Builders has appointed Arrow as its Emea and North America distributor
For the first time, Information Builders has appointed an official distributor for its products. The business intelligence (BI) and analytics, information integrity, and integration specialist has selected Arrow Enterprise Computing Solutions (ECS) for this role.
The distributor will offer WebFocus Express to its resellers to deliver the kind of BI benefits enjoyed by large enterprises to smaller organisations.
Channel building
Arrow ECS will distribute two versions of WebFocus Express to its channel partners in Emea and North America. There will be software-only packages for IBM Power Systems running Linux, and for Intel system running either Linux or Windows. As part of the partnership, Arrow will also manufacture and distribute an IBM Power Systems Linux Appliance running WebFocus Express.
Gerald Cohen (pictured), president and CEO of Information Builders, said, "All companies, regardless of size, should have access to the BI tools they need to understand and make positive use of the information generated by their organisations. Information Builders is thrilled to be partnering with Arrow to extend the power of BI to a greater pool of potential users and ensure that more companies have the tools needed to make informed decisions, improve business processes, and boost revenue."
WebFocus Express is designed to transform data into knowledge without the need for intervention by the IT department. By putting the power in the hands of the broader end-user group, the application allows smaller organisations, or specific departments within larger organisations, to access the kind of BI functions traditionally limited to large enterprises or advanced data analysts.
The product will now allow Arrow's customers to integrate all their information sources, improve business insight, facilitate faster responses, and enhance productivity, the company said.
"The addition of Information Builders' WebFocus to the Arrow portfolio is key to building out our Analytics Solution Practice," said Mark Taylor, vice president of enterprise servers, systems, and software for Arrow ECS. "This product set will complement our current offerings with its proven performance, ease of use, and self-service abilities of WebFocus Express to organisations across the globe."
Read also :